WELCOME TO THE ECONOMADIA WORKATION!
We are going to co-work and co-live in the south of Portugal with mild temperatures in January '21 for 14 days.
How about a New-Year's boost for yourself and your business?
Getting out of the lonely home office setting and having a change of scenery sounds good?
Make meaningful connections with like-minded successful and beginning online entrepreneurs.
For English please turn on captions in the video
---
Schedule a call for participating
---
Who?
Location independent entrepreneurs with an interest for rural coworking and coliving, social entrepreneurship and the desire for a healthy and balanced lifestyle.
What?

Enough time for your personal projects or work
Stable and fast wifi
Healthy and local food
In a beautiful villa at the beach
Fun, connection, professional facilitators
How?
Masterminds and workshops about…
purposeful coliving
community building
social business
thriving as a location independent entrepreneur
fun group activities
Where and when?

At the southern coast in Portugal (Algarve) in January 10th – 24th 2021
THIS WORKATION IS RIGHT FOR YOU WHEN…
→ you are looking for connections and community with like-minded online entrepreneurs

→ you are eager to share knowledge, good vibes and fun
→ you want to take your online business to the next level
---
Schedule a call for participating
---
Simple: if we have to cancel the workation due to the fact that it is impossible to travel to Portugal we give you
100% of your money back.
Your personal flight costs are not included here.
---
A TYPICAL DAY AT ECONOMADIA WORKATION…
Morning:

choose yourself whether your alarm wakes you up or if you sleep in. Morning meditation or workout sessions will get us energized for the day. If you prefer to start with breakfast, grab a fresh squeezed orange juice or hot coffee. Cheers!
Afterwards we will start our co-working session. Choose between the communal coworking space, a space for yourself outside if the weather allows it or withdraw to your own room if you need more privacy.
Noon:

time for a little break and a lunch snack.
Afternoon:

free time for your own work; online entrepreneurship, remote work effectiveness workshops, mastermind groups or activities will take place which you can choose to join.
Evening:

eating dinner together, leisure activities, a barbecue, or going to a near-by restaurant, enjoying life
Due to your individual preference we are flexible to create the program to have the ultimate experience everybody together. You are more than welcome to suggest something yourself.
---
---
COMMUNITY LIFE
This is an experience that we create together. All of us are an important part and contribute to it. You are invited to learn, but also to share.
Consider this workation as an opportunity, as a protected space to offer something, to practice, and you are highly invited to share with everyone. Also, this is a wonderful occasion to live together as a close community for two full weeks. We will share time, knowledge, stories, cook together.
We would like to agree with you to have a responsible attitude and to take over ownership. For the people around you, for the daily things we do and use.
---
FOOD
You are with Economadia! This means local and organic food on your plate and getting in touch with the local cuisine.
Food is a key component which determines the energy of your day. We are going to cook together and pamper ourselves with great food. Vegetarian/vegan food preferences will be considered, please contact organizers for any specific need.
And you know how it is: the best conversations happen when you cut some vegetables together with someone else.
---
The goal of this workation is to get you out of your home box and together level up. Together we will gain new insights and perspectives, supporting each other on our journeys as online entrepreneurs.
---
Schedule a Call for participating
---
YOUR FACILITATORS

Jorin
Jorin currently works as a freelancer in business development for the German speaking online entrepreneur community Citizen Circle. He is the co-founder of Economadia and is now on his way to turn this blog into a veritable business dedicating to rural coworking and coliving.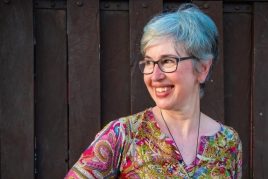 Birgit
During her 30 years as CEO, Birgit has organized countless events in various formats. If she is not busy preparing the next workation she offers coaching to other entrepreneurs via Akut Coaching, works on her Airbnb Business or develops the platform mygreenbnb.de.
---
PAST REFERENCES
I participated in the workation which took place in the Uckermark area near Berlin/Germany which was amazing!

Fantastic location, great nature around, perfectly organized. And most importantly a super exciting group of online entrepreneurs who were happy to share expertise, inspiration, knowledge and fun.

A truly explosive mixture to give your business a boost and at the same time having a wine and a casual talk in the evening. Highly recommended!
The workation organized by Birgit and Jorin gave me a massive boost for my business! Work and free time merged into one with having fun all day long. The exchange with the other entrepreneurs around was enriching for both, my professional as well as my private life.

There was sufficient time to get to know everyone beyond the typical chit-chat. Also, the view and feedback from people looking at my business from the outside was invaluable for the further development. Conversations at eye level have been greatly inspiring.

Community over competition at its best! I am looking forward to taking part in further workations!
---
Schedule a call for participating
---
ACCOMMODATION
The accommodation is the base for your well-being. That said, we put a high emphasis on having a cozy place to feel at total comfort and ease. Moreover, we want you to be in a setting where you can set up a good work flow and where connecting to the others are promoted.
We are going to stay together in an awesome villa right next to the beach! The surroundings offer great opportunities for sport activities such as hiking or surfing.
ROOM CATEGORIES

1. Single room with queen-size bed and en-suite bathroom
2. Shared twin room in adjacent apartment with pool view
3. Shared twin room with shared bathroom – share with a buddy
---
↓ What you have included ↓
Accommodation
Full board healthy local food
Coworking space
Access to all masterminds and workshops
Regular cleaning
Access to washing machine
Daily schedule for your structure
External experts for coliving
Outdoor activities (such as hiking)
Fun, friends and good talks
Some nice little surprises that money can't buy
Corona cancellation policy
↓ What you have not included ↓
Potential visa costs
Activities outside the regular program
Transportation to the venue
Personal medical items
Special add-on Bansko Nomad Fest
(but we have an exclusive discount for you)
---
Simple: if we have to cancel the workation due to the fact that it is impossible to travel to Portugal we give you
100% of your money back.
Your personal flight costs are not included here.
---
EXTENSION OF YOUR STAY
Do you wish to stay longer and put into practice what you've learnt about coliving with your new friends?
We offer you to extend your stay rrrrright after the workation for 2,5 more weeks from Jan. 24th until Feb. 10th 2020. Accommodation, transportation and food is included for all the time!
Please mention your interest wanting to stay longer and to enjoy a full month in Portugal!
---
---
AT A GLANCE
Dates and availability
Jan. 10th – 24th 2021 (workation)
Jan. 24th – Feb. 10th 2021 (coliving)
What you get

An exclusive and immersive experience
Supportive community for personal and professional growth
High quality local organic food
Creating meaningful connections with like-minded people
Coworking area with fast internet (of course)
Exciting program and activities
Practical information

You should arrive to Faro, Portugal latest on Jan. 10th in the afternoon
We will get you back to Faro after breakfast of the check-out day
14 days, all inclusive except from personal items or special activities
Early bird offer until Nov. 31st 2020!
Not sure yet?

If you still feel uncertain whether this is for you get in touch with us
If you prefer by email drop us a line at team@economadia.org and we'll get back to you soonest
If you wish to schedule a personal call you can do it directly here, call or Whatsapp to Jorin +49 157 50 277 160
---
Schedule a call for participating
---

FAQ's
How is your Covid-19 policy?
In case it is impossible to travel to Portugal and hence we need to cancel the workation we give you 100% of your money back. This does not include your flight costs. Here we recommend you to have a travel insurance that would cover this.
Is there good and stable internet?!
No worries, we are covered with 100mbps download and a 50mbps upload.
How do I get there?
Pretty easy: the closest airport is Faro. You can either take a taxi or Uber, or else we are happy to help you with transportation.
Is it possible to take part in only the coliving part after the workation?
Yes, this is possible. You will of course have a great advantage to already get to know to those who are going to stay longer after the workation, too. Yet, if that is the best option for you we are looking forward to having you for the coliving part only.
Can I come later or leave earlier?
We really recommend to take advantage of the full time. Participating from the beginning on will be much better and advantageous for you and for the group dynamics than jumping in later or leaving earlier. Also, we will not reduce the price.
Do I have to be location independent already?
Many people have the assumption that they already have to be in a situation where they are location independent, living a digital nomad lifestyle. While this helps of course for certain things, this is not a criterion to join. The key is to have a open and positive mindset. Our participants come from all walks of life but the common denominator is a genuine interest in using location independence for something meaningful and a community that gives back when you give.
What should I bring for this workation?
Next to your computer we recommend to bring some warm cloths and something against rain is recommendable. It's winter in Portugal, please bear this in mind.
What is not included in the price?
Flights/train/bus that takes you to Faro, Portugal, personal medical items, potential visa costs, any extraordinary activity which is not part of the normal program, personal purchases.
Do I need to participate in every activity?
Every activity is optional. We do recommend you join our custom made program during the time to get the best experience, but of course you don't have to. You will have plenty of time in between the activities to relax, work or to do whatever you feel like.
I have some more questions, how can I contact you?
Our contact by email is team@economadia. org
If you wish to talk to us you can schedule a call directly
here
or Whatsapp us on +49 157 50 277 160.